---
Colour and material are one of the important design elements of hotel furniture. The first impression that hotel furniture brings to people is firstly the colour, secondly the form and lastly the material. Colour with its strong visual impact, can be the first time to catch people's realization. The beautiful and fashionable form design can bring people a pleasant visual enjoyment. Material can be its strong expressive power, give people to visual and tactile psychological and physiological feelings and associations, but if the hotel furniture can not catch people's eyes in the first time, then the second and third points can not be achieved. Therefore, hotel furniture design should focus on the expression of colour.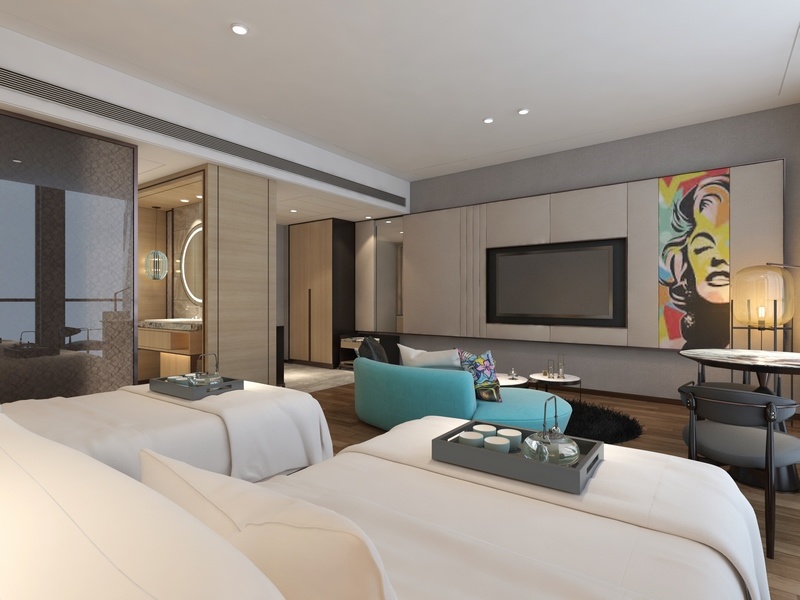 What kind of main colour to set off the high-end hotel space is a topic that should be thought about in the colour selection stage. The interconnection between objects of different colours forms a layered background, the wall is the background of the sofa, the sofa is the background of the cushions, the wall is the big background, the sofa is the second background. In many cases of hotel decorative design, such as walls and floors, there are different colours to set the scene, which can be interspersed with a variety of colours, and the graphic colours and the landscape on the back will be transformed into each other.
In the hotel space, the designer often sums up the interior colour into several parts: a large colour area, here including the ground, wall materials, on other interior objects to play a role in setting off the background colour; used as a decorative and embellishment of the area is very small, but very prominent focus on the colour.
Grammy is willing to work hand in hand with colleagues in the community to add luster to the furniture industry
Leave your contact information and we will contact you within 24 hours.
Guangdong Grammy Furniture Co., Ltd.
Factory address: Longgao Road, longjiang town, Shunde District, Foshan City, Guangdong Province, 800 meters to the right side of Gaoming
Telephone: 86 757 2891 5022
Telephone: 86 757 2387 1928